Deposit and Withdrawal using Bitcoin on Exness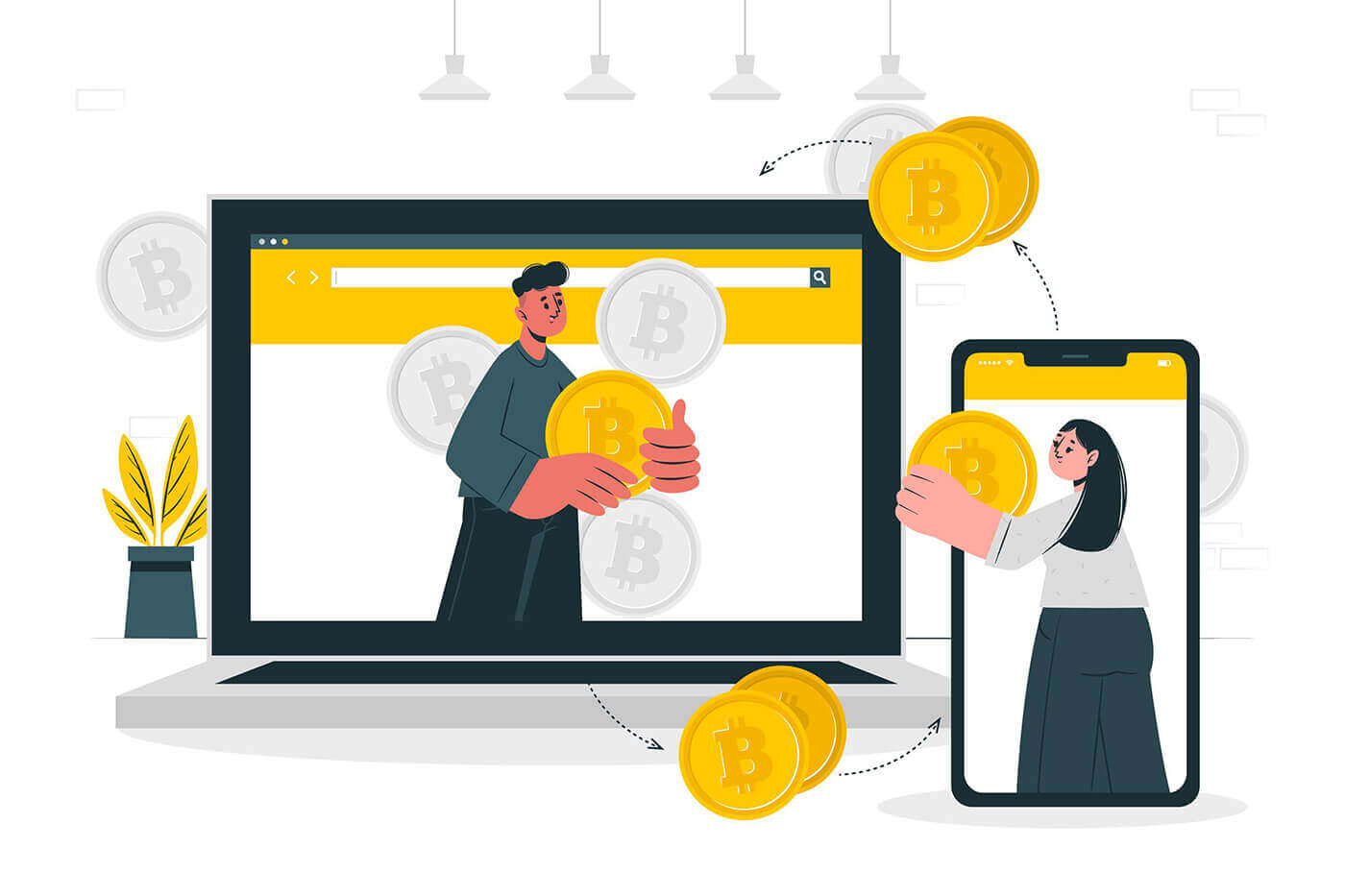 Bitcoin deposits and withdrawals are available 24/7 at Exness. In this article, we've compiled everything you may want to know about Bitcoin and Exness:



Bitcoin Deposit and Withdrawal Processing Time
Here's what you need to know about making deposits and withdrawals with Bitcoin:
Minimum Deposit
USD 10
Maximum Deposit
USD 10 000 000
Deposit Fee

Exness: 0%

You must cover the miner fee.

Deposit Processing Time
Up to 72 hours
Minimum Withdrawal
Current amount of the miner fee.
Maximum Withdrawal

USD 10 000 000

Withdrawal Fee

Fee is dynamic and displayed on the withdrawal page.

You must cover the miner fee.

Withdrawal Processing Time
Up to 72 hours



Deposit funds in Bitcoin (BTC)
You can fund your trading account via Bitcoin in 3 simple steps:
1. Go to the Deposit section in your Personal Area, and click 
Bitcoin (BTC)
.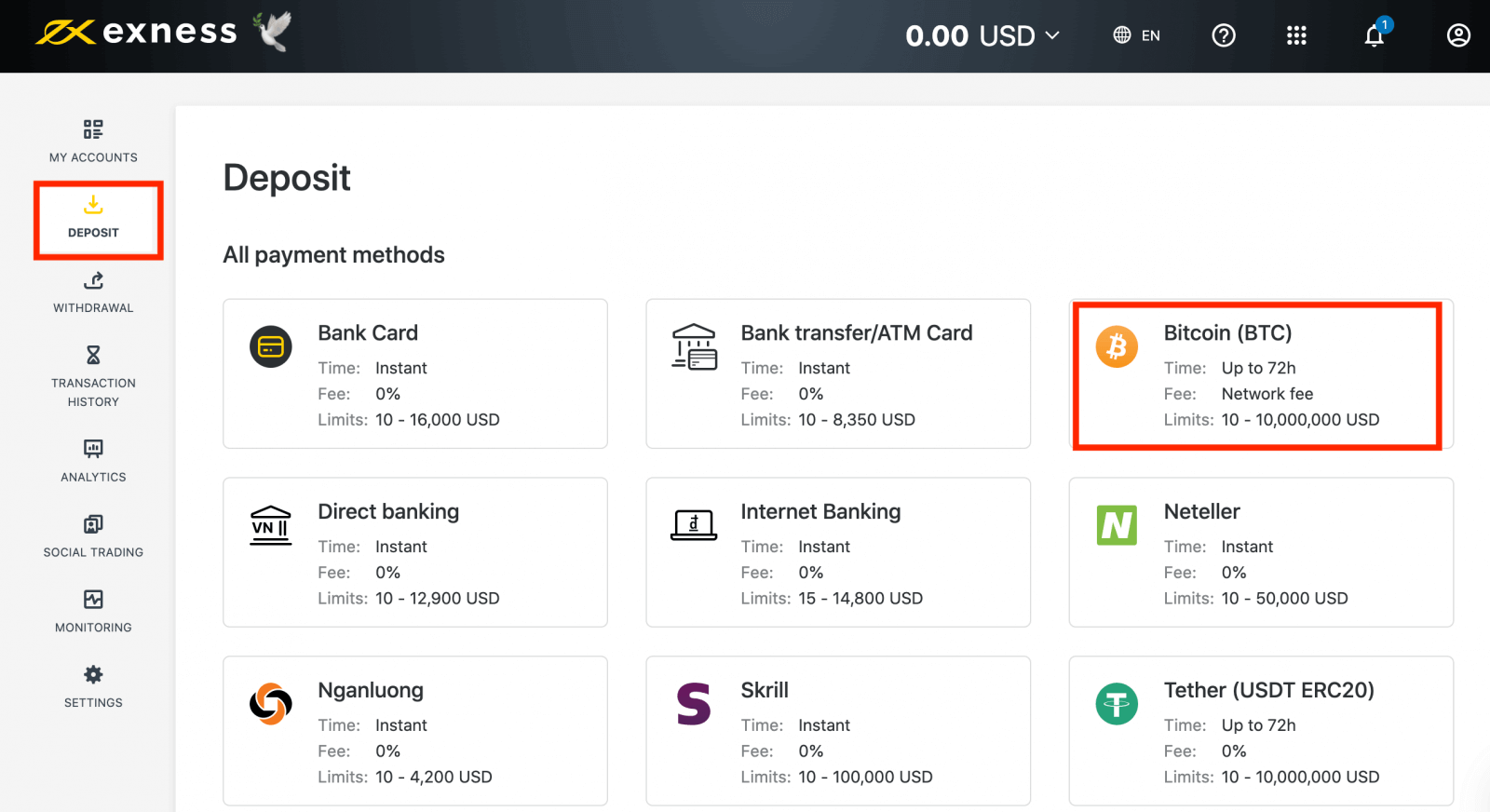 2. Click 
Continue
.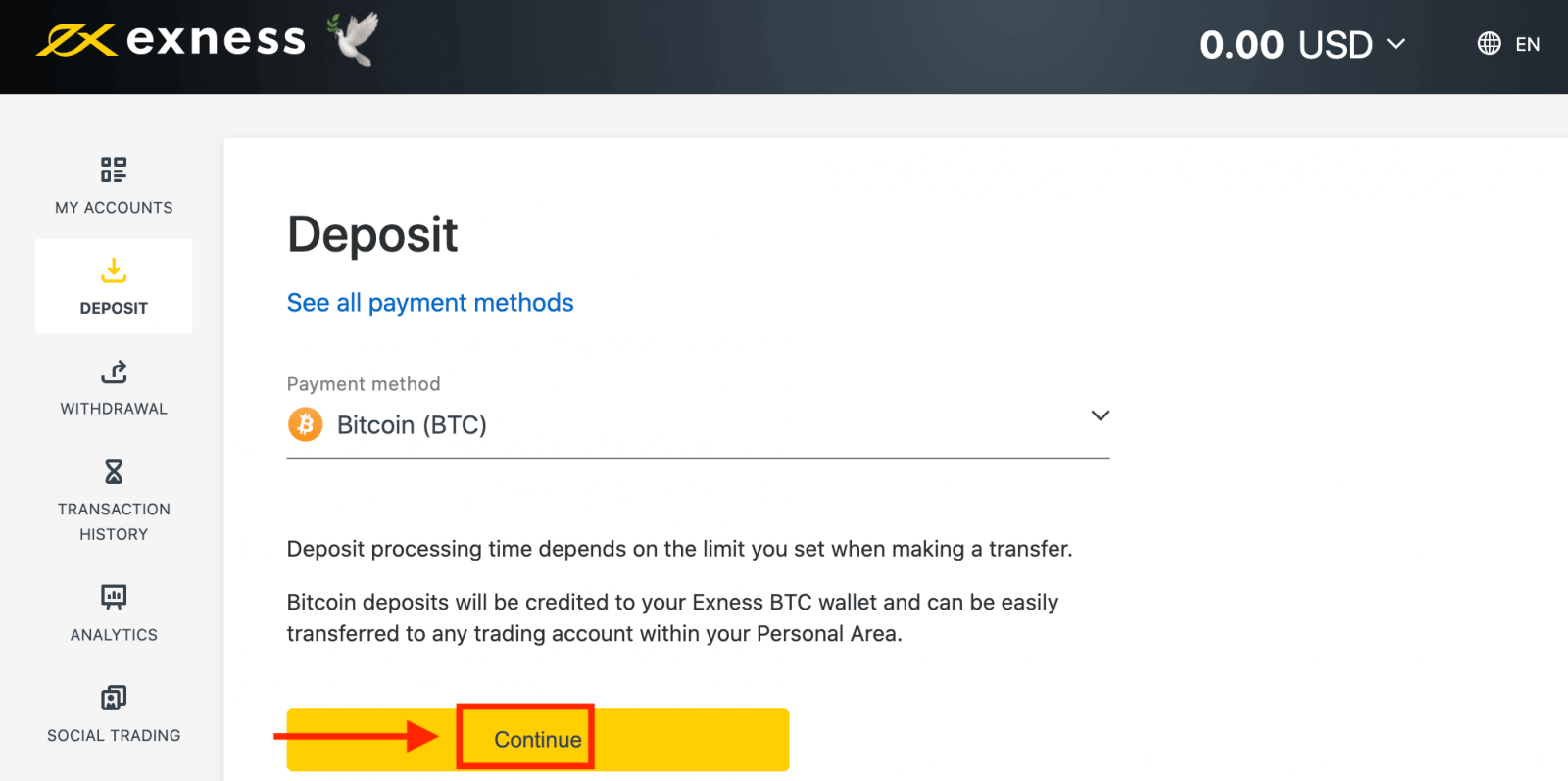 3. The assigned BTC address will be presented, and you will need to send the desired deposit amount from your private wallet to the Exness BTC address.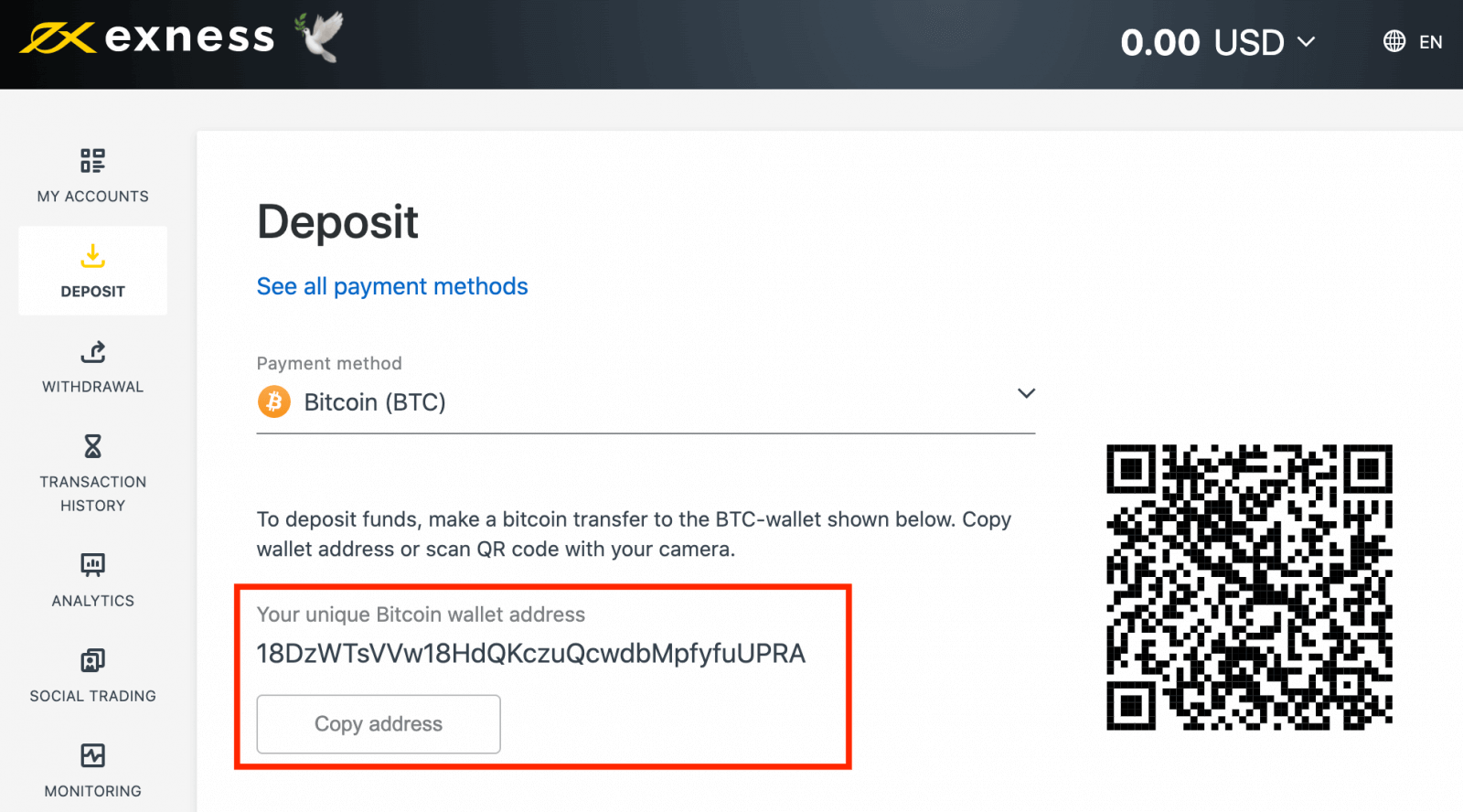 4. Once this payment is successful, the amount will reflect in your chosen trading account in USD. Your deposit action is now complete.
Withdraw funds in Bitcoin (BTC)
To withdraw funds from your trading account:
1. Go to the Withdrawal section in your Personal Area and click 
Bitcoin (BTC)
.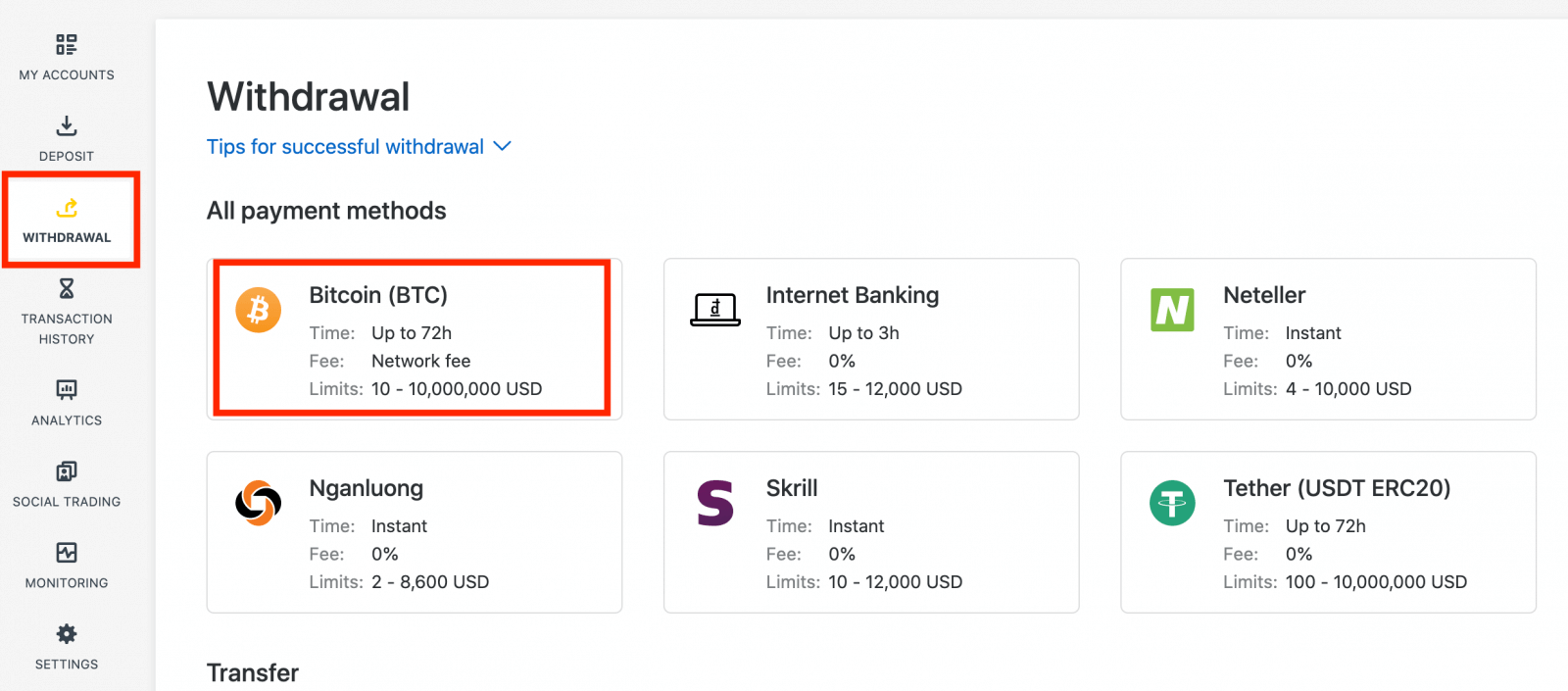 2. You will be asked to provide an external Bitcoin wallet address (this is your personal Bitcoin wallet). Find your external wallet address displayed in your personal Bitcoin wallet, and copy this address.
3. Enter the external wallet address, and the amount you wish to withdraw, then click
Continue
.  
Take care to provide this exact or funds may be lost and irrecoverable and the withdrawal amount.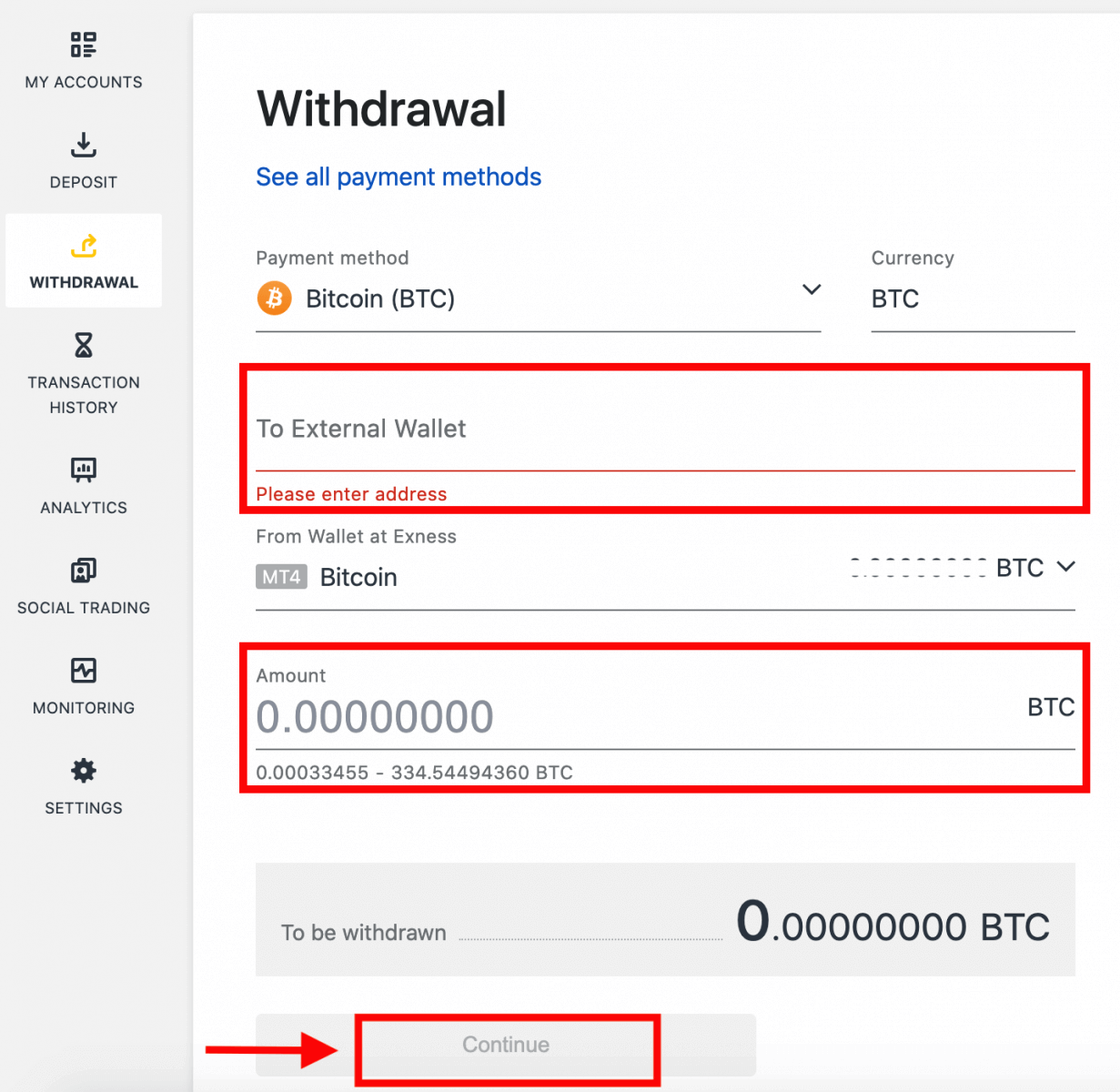 4. A confirmation screen will show all the details of your withdrawal, including any withdrawal fees; if you are satisfied, click Confirm.
5. A verification message will be sent to your Exness account's security type; enter the verification code and then click Confirm.
6. One last confirmation message will notify you that the withdrawal is complete and being processed.  
See two withdrawal transactions instead of one?

As you are already aware, withdrawal for Bitcoin works in the form of refunds (similar to bank card withdrawals). Therefore, when you withdraw an amount that is more than the non-refunded deposits, the system internally splits that transaction into a refund and a profit withdrawal. This is the reason you see two transactions instead of one.

For example, say you deposit 4 BTC and make a profit of 1 BTC from trading, giving you a total of 5 BTC in total. If you withdraw 5 BTC, you will see two transactions - one for an amount of 4 BTC (refund of your deposit) and another for 1 BTC (profit).



Points to note
1. It is possible to deposit funds with one Bitcoin address and withdraw to a different Bitcoin address. Although you can transfer funds to your Exness Bitcoin wallet without making a deposit, if you wish to withdraw the funds, you will first need to make a deposit into the Bitcoin wallet.
2. While Bitcoin withdrawals usually take 72 hours, if 95% deposits into the PA are made using Bitcoin, withdrawals will be processed automatically (without any manual processing from the finance specialists).
3. Your Bitcoin withdrawal amount
must exceed the current miners fee amount
or
be the complete balance
, or an error notification will appear.  
Example: If you have 5 BTC and the current miner fees are 1 BTC, you will be unable to withdraw 4.5 BTC as the balance (0.5 BTC) would be less then the miner fees (1 BTC). In this case you would be able to withdraw an amount between 1.01 BTC and 3.99 BTC, or 5 BTC.
It is advised that you always
indicate the maximum recommended fee to ensure miners process your transaction promptly
; the bigger fee you indicate the faster funds will be credited to your trading account. As a rule, the appropriate fee is recommended by BTC wallets.
4. It is not possible to transfer funds to an Exness Bitcoin wallet in a different PA.